I've taken some photos showing all the bridges on my layout. My layout is called the Butte Shortline; however, none of my bridges actually existed on the real butte Shortline. The bridges are mostly Atlas Bridge Kits. I have modified almost all of these bridges and have scratch built or Kit Bashed others. I will describe what I did with each photo.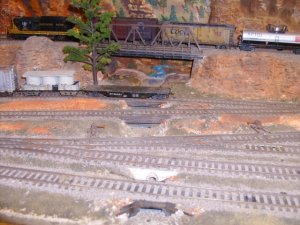 In the photo above, at the top with a train crossing it, is a ballasted Atlas Warren Truss bridge with three trusses as this is a double tracked location (Siding). The trusses are simply glued to a a plywood base, with ballasted cork road bed on top.
There are three scratch built bridges and one culvert crossing under two tracks in the Butte Yard. Scenery still needs some finishing here.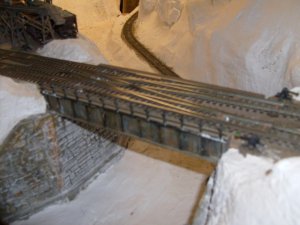 This second photo shows a double tracked Atlas Deck Plate Girder Bridge with a scissors crossover on top. The actual bridge itself is a piece of 5 ply 1/4th thick plywood and the girders are simply glued to the plywood edges. I realize that no railroad would put a cross over on a bridge. However, model railroad are always cramped for space and this was where I had to put it. Both abutments for this bridge where carved from plaster.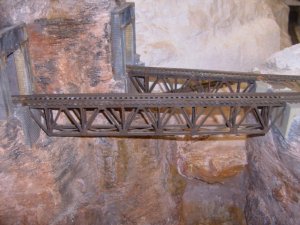 Both of these bridges are Atlas Deck Truss Bridges. The one in back is actually a stock, non-modified Deck Truss. The one forward is two Atlas Deck Truss Bridges spliced together. You will notice that almost all my bridges have been panted with Floquil Spray Roof Brown. Abutments on the left are Atlas Brick Bridge Piers that have been cut in half with their footings cut-off and modified to fit their locations. I am most attracted to Deck Bridges. I like the fact that the train seems to balance precariously on the top of the bridge.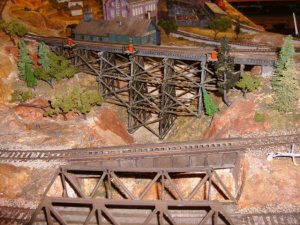 The wood trestle in the back is a Straight Campbells Tall Timber Trestle Kit # 144-216 modified with a curve. I know that Campbells offered a curved trestle, that kit must have been either more expensive; or, out of stock at the time I ordered it so I just figured I could curve the straight one; so, I ordered it instead.
Last edited by a moderator: