Good evening. 44° and cloudy, with 48hours of rain beginning any time.
Terry:
I hear ya on the Insurance dilemma. it's really the carriers, they want to take in the Premiums, and have you, their client cover the first chunk of expense, in addition to paying premiums. When it's their turn to pay, they try and renege. Noticed this with my MIL's Medicare Advantage Plan. Don't know how you can afford it.
Curt:
Nice work on the pump house.
Jesse:
That's good advice from
KenVA and Terry
. Everything in small steps.
Speaking of small steps, here's a photo of my new Atlas S-2, idling next to my finally (almost) completed freight house. All that remains is to drill the hole and fish the wires for the lighting. That's a DCC/Sound loco, currently running on DC.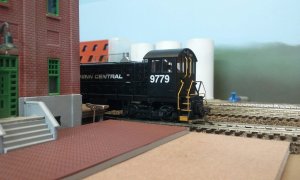 Last edited by a moderator: