I have a small to medium sized layout and usually run several locomotives at the same time. Two locomotives on the main and maybe two locos switching cars at various industries. I operate DCC and approximately at least half of my locomotives are sound equipped. I found that more than several locomotives running with sound at a time can be overbearing and I prefer to listen to only a single or two locomotives with sound at a time.
When visitors enter the layout room they are greeted by the elevated Saxeville Interchange and usually several locomotive are idling in the interchange while others have their headlights operating. Visitors' first impression is that my railroad is a larger model railroad and more realistic than imagined upon hearing the sound of locomotives.
On the mainline visitors find two locomotives pulling trains slowly, making their way around the layout's trackage and the individual locomotives' sound is distinct which attracts everyone's attention.
What do you prefer...sound or no sound or a limit sound locomotives?
PS: Nothing beats the sound of an ALCO starting and then the sound of the locomotive struggling to start moving a string of cars.
Thanks.
Greg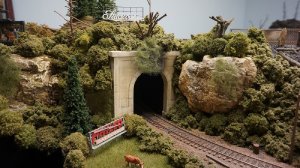 Saxeville Tunnel...Interchange yard is above to the left. No trains yet to appear emerging from the tunnel.
Last edited by a moderator: