Just moving into our new house, and part of the conditions for moving was I get more space for a layout. I had a 10'x12' around the walls layout that the forum previously advised me greatly on, so wondering if the group wanted to tackle helping me design a new layout? If so, here are my Givens & Druthers:
Givens:
HO Scale
DCC (NCE)
Freelance - steam, diesel, whatever, mostly D&RGW
Space (definitely not to scale) as defined in image

Workbench is 24" deep, not counting chair

Single level layout
Druthers:
Long mainline(s), as long as possible

run longer trains with passenger cars, my favorite to run is 11 CA Zephyr (BLI) cars with my 4-6-6-4 Challenger, so, a pretty long train
Dual mains would be nice, but not necessary

36" minimum radius for mainlines
No specific operations, I prefer watching trains run, maybe some light switching
Industries/buildings I'd like to incorporate

Yard with Walthers 130' turntable
3 stall modern roundhouse
Car shop
New River Mine
Marble company
Couple of FSM buildings yet to be built
Would like a city or two

Would like to avoid a duck-under if possible, but not a huge druther
No hidden staging
Some changes in elevation
Here is a diagram the diagram of the room: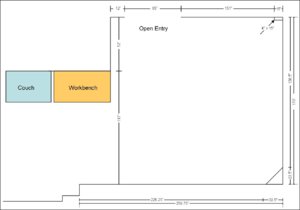 And my first thoughts on a table configuration: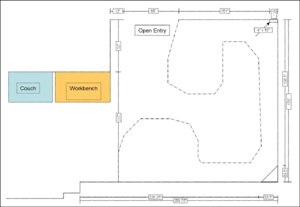 My initial thought is to end the table even with the west wall coming down from the top. The workbench is 24" deep, leaving 93" of space, which doesn't take into account me having a chair (and my belly) at the work bench. With 36" radius curves, I'd need 72 inches to turn a train around there, leaving just under 2 feet (21") of room to navigate before seating. But, if necessary I can move the workbench a little to the left.
Here's a picture of the space, taken from the left of the diagram (the couch and workbench will be on the wall immediately to the left in the picture):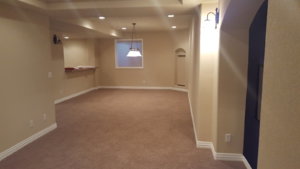 And, if you're curious, here's the old layout diagram and a picture of how far I got in the build before tearing it down for the move: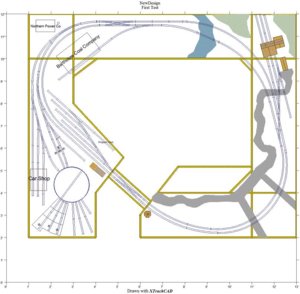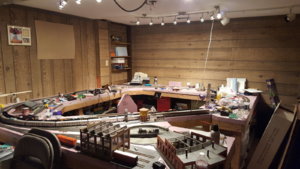 So what say you? Interested in helping me design a new layout? Thanks in advance!
Ian
Last edited: