Hi gang, this thread is a continuation of an earlier one titled "
Scenery Dilemma What Would Tony Koester Do
", where I needed to figure out a way to hide a hole in the backdrop on a semi-urban flat land scene. The consensus was that I should hide it with a freeway overpass, so that's what I did.
My last post on the old thread was about how I had finished assembling the kit-kluge of four (4) Rix Products Modern Highway Overpass kits in the angled shape needed for this scenic application, and had it test-fitted on 5 blocks of wood: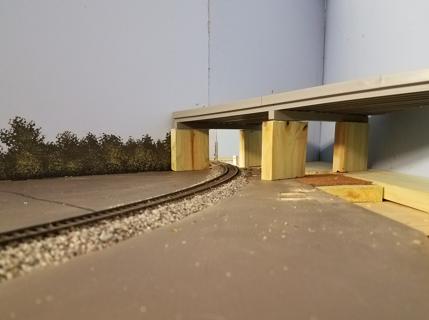 The remaining tasks were to [1] paint the overpass, [2] construct styrene piers and paint them in an aged concrete color, and [3] finish applying all the scenic elements that would make this scene look "natural."
Task #'s 1 and 2 were relatively straight forward: I spray-painted the top surface of the overpass with rattle-can Rustoleum from my friendly neighborhood Ace hardware store. Then I applied a coat of flat gray to the Jersey walls to make them look newer-poured concrete. The girders were done in orange, and the piers in Tamiya flat buff. I hand-painted the lane stripes on areas masked with painters' tape, then rubbed-on various dirty shades of Bragdon powders to simulate the residue of oil and soot from years of vehicles passing over.