On an earlier thread I posted that my office decided to install a model railroad. The idea is a locomotive decorated for our company would be pulling around freight cars of all our clients. So here is a thread to share the progress of this railroad as it speeds toward its First completion. I say first completion because of the time constraints everything is being done just good enough to be passable by the board of directors meeting on April 19th. The plan is to go back and rework everything to bring it up to my standards later at a much more leisurely and therefore much more fun pace.
Date Line January 30.
For the designated space in the office I decided on a 9'x12' space that is not a rectangle. Minimum radius is 28". Spent about a month working on a track plan (s
ee thread title beginning with "I stepped in it now
"). I wasted about a month thinking we could set a goal for the September board meeting. But nope, and so much for February.
Date Line March 5.
Despite all the best laid plans I wanted to be certain this was really OK with the boss. By the boss I mean the president of the company. After all it is going to be sitting right outside his office door and every client that comes in is going to have to walk by it. So here is the first step. I chose a day I knew he was going to be in the office (which is not often), got masking tape, and marked out on the floor where I intended it to be.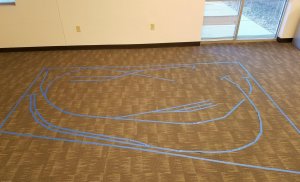 Last edited by a moderator: