Matte-medium + surfactants: Which ones?
I was experimenting with gluing my non-sanded grouts that I use for dirt and some ground foams and tried Woodland Scenics' scenic cement. I was impressed with its performance. The scenic cement didn't discolor my grout, and everything sealed up nicely with no loose grout powder remaining.

I was about to place another order for more Woodland Scenics' scenic cement until someone mentioned that I can just dilute matte-medium 1:3 to make my own scenic cement. Two of the most common products I see used by modelers are: Scenic Express' Matte-Medium concentrate, and Mod Podge Matte. However, comparing Scenic Express' matte-medium concentrate to Mod
Podge
Matte [edit: Mod Podge matte is
simply
diluted PVA], I noticed that there's a significant price difference.
​
One gallon of Scenic Express concentrate is $58.98, whereas, one gallon of Mod

Podge

is only $29.26 (Scenic Express also sells a "prepared" matte-medium for $22.98 a gallon, which I assume is simply diluted matte-medium concentrate). If the Mod Podge product is of similar concentration and formulation, it's clearly the better deal.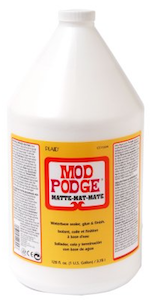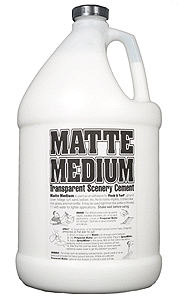 I know that many modelers make their own home-brew Elmer's glue-based scenic cement formulations, and are happy with its performance (i.e., Elmer's white glue + surfactant + water). However, apparently there are a few differences between Elmer's-type home-brews and commercially prepared matte-medium formulations.

I did some Googling comparing the two, and many claimed to prefer commercially prepared matte-medium, stating that matte-medium dries to a more rubbery texture with some flexibility, whereas PVA home-brews tends to dry harder and more brittle. Some stated that matte-medium glued scenery was also easier to pull-up (i.e., comes off in large pieces), whereas PVA-home brews would come up with more difficulty (i.e., pulls off in little pieces). Also, others said that PVA-home brews would tend to darken certain materials, whereas commercially prepared, diluted matte-medium did not.

Since the Mod Podge matte-medium is reasonably priced, I'm inclined to buy a bottle of that for making my own scenic cement and for using full-strength matte-medium when needed. My questions are:

• Is diluted Mod Podge in fact, virtually identical to the Woodland Scenics' scenic cement product?
• Is Mod Podge Matte about the same concentration as Scenic Express' Matte-Medium Concentrate?

My primary application for scenic cement is to apply and seal my non-sanded grouts and ground foams. I plan to use full-strength, matte-medium to apply my static-grass.

Thanks for any replies!
Last edited by a moderator: