Afternoon All,
Visited the vampire this morning then did some chores at home. I put on the corrugated roofing on. I still need to do weathering powders when the build is done.
Joe-
Thank you.
Johnny-
Really nice job on the lake. I am very sorry to hear your news. Prayers for Dena and you.
Justin-
Congratulations. Best wishes for Mom, the baby and you.
PNKFLOYD-
Congrats on the sale and new house. Also, congrats on your RR empire milestone.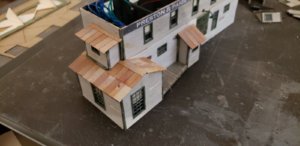 I hope everyone has a good night.