Good afternoon Everyone....sunny but cold here in Wisconsin. The Mrs. took me to a movie and I fell asleep about 10 minutes before the ending! We saw Clint Eastwood in The Mule. Eastwood is getting older like most of us, but what a life he lead and he is enjoying every minute of it. I would rate the movie at only maybe a 7, but rate Eastwood's efforts to still act at his age a 10.
Sherrel:
I have two Atlas Milwaukee Road U-Boats that pull my unit ore train. I last ran the ore train on club's our now departed mod layout when we set up it at a local C&NW historical Society Meeting. The train only had only 24 cars, but no one said a word about the Milwaukee U-Boats being at a C&NW function. Guess I wasn't thinking and should of ran some C&NW power to pull the unit ore train.
Great story on the locomotives.
Erik:
I would consider a house with larger basement with all the creature comforts and requirements like electrical, heat and air conditioning. Or perhaps a bonus room or a two level garage with space for a layout.
You have seen our basement and the layout room and unfortunately the finished area of the basement came before the layout room which restricted the size of the layout. It would be nice to have a fresh start and a clear basement.
Willie:
Like Erik suggested, please tell us the story on the construction of your "Train Shed".
Need to look at Scale Trains for some Milwaukee or C&NW motive power. I enjoy models with so much detail. I can sit for a long time watching trains circle my layout, some times with a favorite adult drink.
Looking forward to tomorrow to work all day in the layout room. Still have to get two turnouts to work smoothly. Going to try a new weathering products.
Jim:
I agree about the houses being so close to the engine facitities. Around the clock noise. The CN line is a mile and a half from my house and at night I hear the locomotives' engines and their horns at the grade crossings.
That's all for now.
Greg
################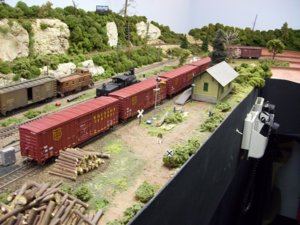 A vintage shay moves pass four Wisconsin Central box cars on the spur.