Good morning. A cup of black coffee please

with a shot of Jack in it please.
9
degrees to start off the day but we could possible get up to 30 this afternoon. Heading your way guys!
Talked with
Eric
briefly last night. He really sounded quite upbeat compared to the last time I talked with him. Had to cut the conversation short as the wife was calling me to dinner. Glad to see you are finally set up with internet. Things are finally looking up for you after all that you've been through.
Justin -
Those were a couple of nice photos. U usually do solder any rail joints, but there are a few that have not been soldered and havebeen working just fine for over 30 years. Go figure.

Johnny -
You got quite a deal on that paint. I was a big fan of Floquil years ago when I was doing a lot of custom painting and still have a few bottles left. After having such good luck with the Tru-Color paint, I guess that's what I'll be using in the future.
Willie -
Snow doesn't bother me too much. It's a way of life up here in the winter. We have a ski hill, 30 miles north of us and another 30 miles south of us. There are also snowmobile trails all over the area. I'll stick with snowmobiling. I use to ski, but now I don't bounce as good as I used to. I want something with a motor also. Driving can sometimes be challenging with all of the newbies that have moved into the area. I can control my rig, but not theirs.
Garry
- Yes, no Good Humor trucks in the area where I grew up. way too rural. When we went to visit relatives in northern Indiana, there were some in the area. I am a big ice cream fan and Good Humor is some good ice cream.
Sherrel
- They do tax the heck out of you people out there on the left coast. We have a few friends who moved there in the later 80's when the recession hit because there were no jobs up here, but thay have all moved back because of all the taxes.
Here's mt rail picture for today.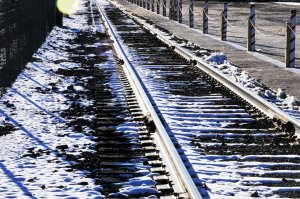 Later