Good morning. Cloudy and
41
degrees and had some rain overnight. Need a hot cup of black coffee. The Accuweather app on my phone issued a
Winter Weather Advisory
from 6 PM tonight until noon on Saturday. It is for elevations above 5,500 feet. We're right at that level. Guess we'll see what happens.
Greg - Sounds like you may not be happy with that Kato business car. I was thinking of repainting the Northern Pacific car that I have because the colors are way off.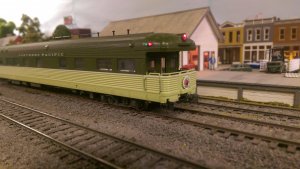 Now that I have the Tru-Color paints for the Lowey paint scheme, thought I might get it done to the correct colors. Looking at your comment, I may just leave it as is and say to myself that it is just faded.
On the
red
warning screen, I just went to the upper right to ignore the warning. The computer hasn't melted down yet. This computer had Win-10 and I prefer FireFox for a browser. At home I am still using Win-7 with FireFox and never got that warning.
Eric
- I have faith in you. I thought that you would get things figured out. The instructions can't be any worse than the
suggestions
that Walthers passes off for directions.
Willie
- I have seen quite a few duplications with the Preisler unpainted figures. I have done the same thing as you by carving off some details or heating arns or legs to reposition them. Of course, like you mentioned, different colors work also. A lot depends on which set you get.
Justin
- Willie is correct when he suggests going with Kadee couplers. I have replaced almost all plastic couplers on locomotives and rolling stock. A few weeks ago I put together a 97 car train and ran it around my layout negotiating a two and a half percent grade. Plastic couplers would most likely have failed. I did have only one doupler problem when the clip on an old blue box car fell off. A quick fix and no further problems. I do still have a couple of small switchers that need an extremely short shank coupler because I really like the looks of them, but haven't taken the time to look up what the replacement numbers are. I'll look and see if I can find the old #5's I have been replacing with the 158 whisker couplers. If I can remember what I did with them and perhaps send them your way. I also have an old bulk pack of #5's somewhere which I probably won't use because I have changed over to the 158's.
Here's a rail picture for the day.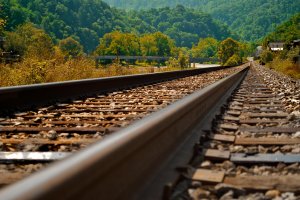 Later