Good Morning All. 80° and clear with no wind. It's unusual for us to have no wind. Sure made for a sweaty walk this morning. Grandsons are still here with us, they go home later this morning. There's nothing like stepping on a "Matchbox" car in the dark with bare feet. Broke the tractor again yesterday. This time it's a wheel bearing on the opposite wheel from the tie rod recently. New one will arrive in a day or so.
Out in the train shed, I did some more work on my "rehab" project. I added sidewalks, steps, railings and some roof details to it. The railing is made from some .040" and .020" Evergreen rod. The step railing came from a ladder/stairway detail kit I acquired a few years ago.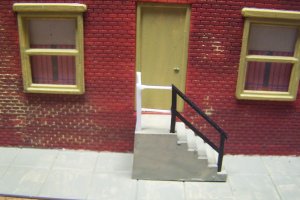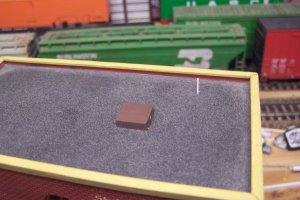 Thanks to all who commented on the "Green Door Lounge";
Dave
,
Garry
,
Chet
,
Joe
, and any others that I may have missed.
Sherrel
- Really nice looking steam engine.
Eric
- No picture of the reefer. I think that most roof doors went in the corners, opening to the ends of the car.
Louis
is not the early bird that he once was now that he has a job.
Everybody have an awesome day.
Willie