Afternoon All,
Today I put the shingles on the roof. I really like the roofing material. I was going to weather everything but I got a call from Son-In-Law, and I'm going to be watching the boys for several hours. Going to the club tomorrow so I probably won't be on here.
Thank you to everyone that had kind words on my build.
Ken-
Nice photo. That could almost be the prototype for the tower. I wish it was since it has more character than the one I'm building.
Terry-
That was very nice of the driver.
Willie-
I had a Uncle that lived in Ohio that always had a huge garden.
Chet-
Yep, it is the same one.I do like track photos.
Here's the roof. For some reason it appears once again that pictures are copying sideways although in my phone and desk top show the proper orientation.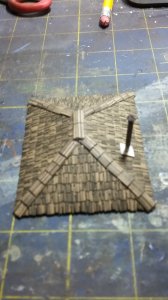 I hope everyone has a good night.