Since I am restricted to the first floor level of my home and I can't maneuver downstairs as of yet to get to the layout room, I've been spending time thinking and doing future planning of improvements and the expansion of my layout. One thought occurred to me is that I have few roads on the layout and all lead to nowhere. No one has said or remarked about the roads or do I even think about it much anymore.
It funny that while I was laying in ICU I thought a lot about model railroading and what I liked best about other layouts I've seen in person or in photographs of other layouts. (I stopped thinking about food after the first week of not eating.)
My CM&NR layout also has the typical RIX overpass over the Saxeville interchange yard which I plan to redo and do more realistic weathering for a vintage type bridge that it represents.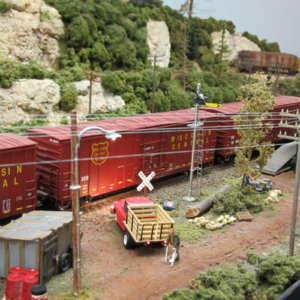 -As an example this road ends at the tracks, but with the Wisconsin Central box car blocks the view no one notices the shortness of the roadway. The right side of the roadway serves the abandoned terminal building. The road was done using sand carried from Sedona, Arizona.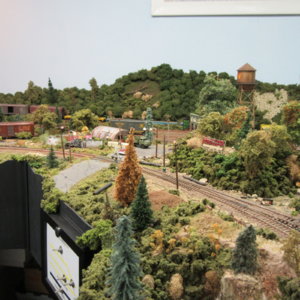 -The road at the left starts at the layout's fascia and ends at the freight yard in the distance. Again the length of this road goes unnoticed. Maybe the amount of detail in this scene hides the fact that this road goes to a dead end.
The expansion yard will be a mere 2.5 feet wide so even here any roadway that's planned will have a limited length unless run along the fascia or at an angle into the layout. I like dirt or gravel roads and want to have at least two in the expansion area. Dirt roadways are typical for yard areas.
-I like this dirt road in this photo I found on the internet. It suggests a maintenance access road along the main right of way in a rocky region of the United States.
On many model railroads I see roadways that blend into the background so there is the suggestion that the roadway is going somewhere or serves a purpose by dropping over the horizon or blending into some buildings or trees as an example. Or, the roads are incorporated into city scapes and serve vehicle traffic as on seen Chet's, Willie's layouts or on other model railroads which are featured on this Forum.
How do you construct and plan the roadways on your model railroads to help avoid roads that lead to nowhere, but serve a purpose?
Thanks.
Greg
#################################
Interesting arrangement and mixture of roadways and trackage in this web photo.-Greg
Last edited: