This particular idea of mine was born in an evolutionary manner while figuring out how I was going to construct the shelves for my double-deck layout.
http://www.modelrailroadforums.com/forum/showthread.php?40307-Help-Please-design-a-dbl-deck-layout-in-its-own-Hand-House-shed
I have been considering both 1) thick foam,.... and 2) sheet plywood for the subroadbed on the bottom deck.
The one thing I was certain of is that I wanted to utilize these nice stiff, strong brackets to hold up that bottom deck. With these brackets screwed in firmly to the 2x4 wall studs on 24 inch centers would surely be strong enough. And either the 2" foam or sheet plywood could easily span the 24" center distance without distorting.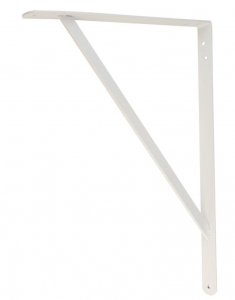 Everbilt bracket
The question then became one of how much cantilevered strength would those brackets provide, and how much cantilevered strength would the 'sheet' of subroadbed material itself provide??
What might I consider to enhance the properties of both without adding lots of bulky, weighty materials?