Here is a contest to show our freight, non-revenue and passenger car building skills. The rules are: The car must be built from scratch; or, a kit. No Ready to Run cars are allowed! This is being done with the express purpose of promoting building models, as opposed to purchasing RTR. The contest will run to October 31th, 2017. Anyone (including the contest promoter) can enter. When the car was built is of no consequence, cars 20+ years old, qualify as well as cars finished today. Cars may be weathered; or, not and should not be judged because of the weathering. Kits may be as simple as the old Athearn Blue Box kit. Winning simply gives the winner the accolades of praise for their hard work by a panel of judges.
I'm attempting to make this a simple-easy to follow and enter contest; however, I know that some will have questions that I will address as they come up.
Here is my entry, It is an American Model Builders Laser Kit of a Northern Pacific 1700 Series Caboose, Kit Number 885. It is a wood Laser Cut kit.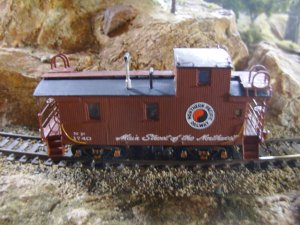 There you go, lets have some fun! You have You have a month and seven days from today to "Get'r Done! I will procure two other judges to help with the judging of this contest. Please enter!
Last edited by a moderator: