After seeing the cost of decent manufactured trees, I was convinced that I would either have to win the lottery or make my own forest. Making my own is the only real option, because the lottery gods seem to favor others. So I watched a few videos and read some post to learn how to make models of the spruce that are so common in my area.
My goal became making a tree that looked the part and used available materials that were on hand. I had plenty of #18 gauge copper wire, a bulk roll of bread-bag tie wire, lots of sawdust, paint, and a small bag of WS green turf. I twisted everything together today, and formed this kinda, maybe look like a spruce group of three:
: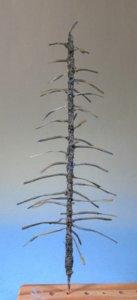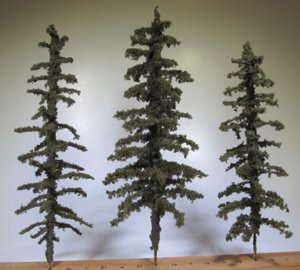 These are my first trees, and like any beginner, I suppose I'm not quite satisfied yet.
I need to figure out a better way to add the foliage while leaving the painted sawdust bark exposed.
These will be good enough to fit inside a boreal forest, though. I've already learned a better way to make realistic trees for the exposed edges. Although, they will be time consuming to make, and I must wait for the thaw so I can enter our forest and collect natural materials. The snow is still 4' deep out there.
Guy