I really appreciate the size of Montanan's, SantaFe Willie's and Mark's layouts and the room the guys have to construct cityscapes and scenery. I'm sure I missed other equally as large layouts of the Forum membership. My layout unfortunately is not as large as I would of like the layout to have ended up to be in size, but the bar area and the wife's Green Bay Packer room came first and the layout location moved around the basement from several areas until it ended up as the CM&N in the former workshop area of the basement as its now permanent location.
The size limitations of the CM&N required me to make some concessions in size like roadways, city scenes and other features commonly found on model railroads. There are four roadways on the CM&N and actually none of the roadways lead to anywhere, but merely suggest that there is a reason and purpose for their existence. City scenes and industrial areas are primarily background buildings with photographic backgrounds. Again, due to space limitations. Water features are small ponds or swampy areas, no lakes or rivers are to be found.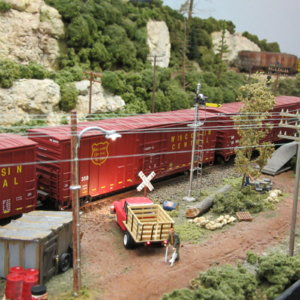 -This road actually ends at the tracks and at terminal building to the right. To the left the road sort disappears into the landscape.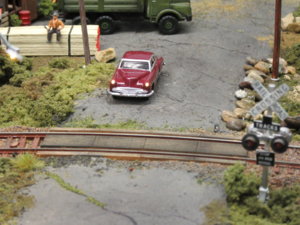 -This roadway ends at the freight yard just beyond the green truck and ends at the edge of the layout.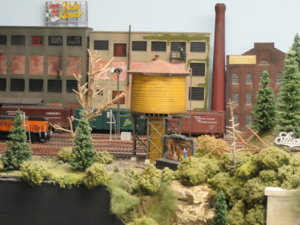 -The industrial area of Waupaca, Wisconsin...is mainly kit bashed background buildings. This scene is barely two feet wide and has five tracks between the buildings and the water tower. I like to "spill" the landscape down the front of the fascia to expand the layout's appearance.
Perhaps if I would redo the layout (that's not likely to happen) I would model in N scale rather than HO to open more layout possibilities.
Did you find in planning and constructing your layout that certain concessions needed to be made due to space limitations and what were these changes?
Thanks.
Greg
Last edited: