I am having an issue with a Walther's Proto GP 60 Locomotive. This particular locomotive - 7127 will hesitate ( slow down and sound cuts out} as it pulls forward through one of the 17 Atlas remote snap switches on my layout. This is at speed step three on my NCE Power Cab DCC system. The locomotive will continue through the turnout and the sound powers back up...unless I have a twelve car train or more, then it stops until I push it through the turnout.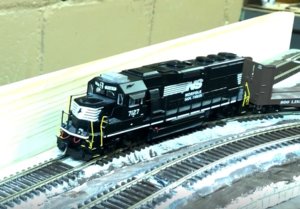 I tried uploading a video of this happening but I could not do it. This photo is at the exact location on the snap switch where this occurs. Let me try and explain further: The turnout is a right hand Atlas #4 remote snap switch. One of 17 on the layout. #7127 is the only locomotive that has this hesitation when going forward through this particular turnout. It does not do it when in reverse or when going forward the opposite way through the turnout. I have a second Walther's Proto GP 60 and a Walther's Trainline GP 9 that never have issues going through this turnout. My Proses three light voltage gauge shows three lights worth of power through the entire turnout. I have metal wheels on all of my rolling stock and clean the track with alcohol once a week if it needs it or not. Oh..and one more thing...7127 will not do this every time it goes through this particular turnout. It will pull through fine for three consecutive runs through and then the hesitation kicks in on the fourth or fifth and continues until I stop 7127 and cuss out the engineer.
I will then use a small dental brush with alcohol on the contact points of the rails and I get a smooth pull for three more runs.
I am wondering if there is an electrical pick up associated with the forward starboard side truck on 7127 that needs to be adjusted or cleaned. I have no idea if this is the issue or how I would correct it. I really do not think that it is the turnout as my other locomotives pull through just fine. Any thoughts or suggestions are greatly appreciated.
I